According to the experts of human and child psychology, putting up your Christmas lights earlier brings you happiness and stress-free life. The lights and decoration take you back to your childhood, the era of happiness. It gives you nostalgia and brings back the kind of peace you had back then.
Scroll down to watch the video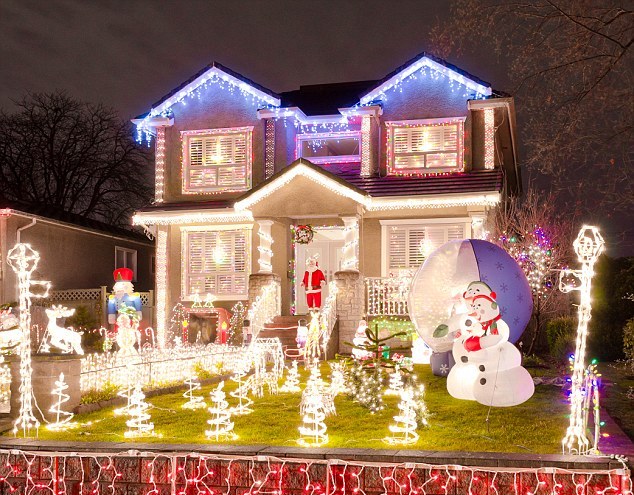 The decoration works as a string that leads you back to the life of your childhood. The people who are into this habit tend to have a more fulfilled life as compared to others.
Video credit: Travis collis
MindFixers's Psychoanalyst and founder, Steve McKeown says, "Although there could be a number of symptomatic reasons why someone would want to obsessively put up decorations early, most commonly for nostalgic reasons either to relive the magic or to compensate for past neglect."
This world is full of reasons for stress and anxiety and these decorations act as a guard against the sea you are drowning in. It brings you back the happy memories of your life from the days of no stress.
Psychologist and author of the book 13 Things Mentally Strong People Don't Do says 'The holiday season stirs up a sense of nostalgia.
'Nostalgia helps link people to their personal past and it helps people understand their identity.
'For many putting up Christmas decorations early is a way for them to reconnect with their childhoods. It may be a bittersweet feeling.
'Perhaps the holidays serve as a reminder of when a loved one was still alive. Or maybe looking at a Christmas tree reminds someone of what life was like when they still believed in Santa.
So don't keep it on hold and don't keep waiting for the time to be late. Do it early and live some precious happy moments with your family. Make memories for your family and loved once, only happy memories.
If you liked this post, share it with your friends and family.
"Recommended Video – Daughter surprises family as she comes home for Christmas."
Don't forget to ▼LIKE US▼ for more inspirational stories!
Enjoyed the article? Check out another interesting story below ▼
---

Share this story with your friends and family!
---