Have you ever tried sleeping empty stomach? You never did because you don't have to. Hunger is the worst thing a person should live with but people who have money can never understand this. We have money and this is why we tend to waste food that we don't want to eat. Ask yourself if wasting food is the right thing to do?
Not having enough money to buy a meal is not something we can understand; only the ones who have been in that place can understand it.
Scroll down to watch the video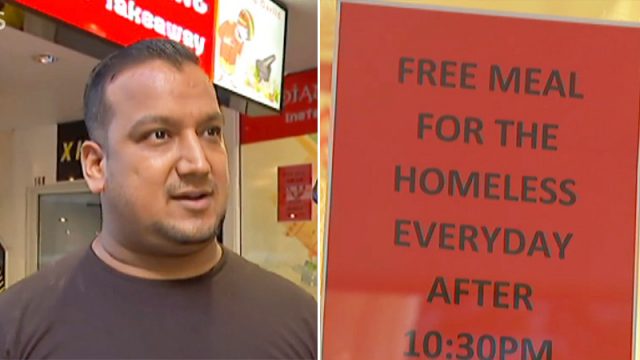 When Ashish Sood first came to the city from his birth-place Ludhiana in India, he didn't have much money. He came to Australia with dreams; He came to the country to study hospitality and commercial cooking so that he can start his own restaurant one day.

Video credit: ABC Brisbane
This was Ashish's dream, despite having almost no money in his pockets, the man wished to be something really big and successful.
While studying, once a time came when he had no money at all and had to live in a park for as long as two weeks. He hardly had any food and used to sleep empty stomach most of the nights.
Ashish owns an Indian cuisine's restaurant in Australia now. After years of hard work and struggles, he now has what he always wished for. Now that he is successful with his venture and enough money, he has decided to help those who don't have the money to fill their need for money.
Ashish gives away free dinner to the homeless in his city. He has put up posters outside his restraints that offer free food to the Homeless after 10:30 pm.
Ashish says they have so much leftover food each day and throwing it all away every day does not feel right. He has been in that state and so he decided to give all the food to the ones who need it. At the closing time at his restaurant located in CBD Brisbane, Sood and his employes give away the leftover food to almost 10 homeless people each day.
Ashish Sood is doing a great and a noble job and this definitely should be appreciated.
Share this post with your friends and family.
"Recommended Video – Ruthless Jogger Who Threw Out Homeless Man's Belongings Into A Lake Is Arrested And Charged With Robbery"
If you liked this post, we would love to hear from you:)
Enjoyed the article? Check out another interesting story below ▼
---

Share this story with your friends and family!
---